Dell published results for a survey of 1,000 IT decision makers in 15 countries and 14 industries for the 2022.
According to the Dell Global Data Protection Index 67 percent of respondents said that they are not confident their data protection measures can withstand ransomware and malware threats. Sixty-three percent of respondents said that they don't feel confident that business-critical data can still be recovered after a cyberattack.
It found that natural and modern catastrophes are increasing and causing data loss, downtime and high recovery costs. 48% of respondents cite cyberattacks as the most serious disaster, up from 37% according to Dell's 2021 GDPI study.
Although many organizations have an understanding and are planning or deploying Zero Trust security, few have fully implemented the architecture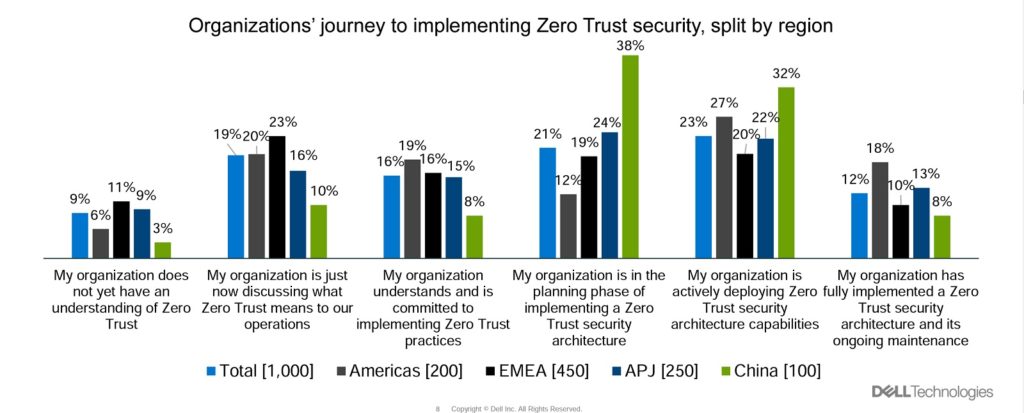 The majority of organizations still have a way to go to ensure Zero Trust is executed to best-practice standards and are potentially vulnerable to risk in the meantime

Almost all respondents to the GDPI survey stated that they plan to introduce zero trust in their environments at one point.But actual deployment is slow — only 12% of respondents said they had fully implemented zero-trust architecture into the environments. Researchers believe the primary problem lies in a lack of IT skills, especially when it comes to data protection and cyber recovery.
Respondents also wanted to use fewer data protection vendors. 85% of respondents recognized the benefits of reducing the number of vendors required to protect data. The survey revealed that organizations who only use one data protection vendor spend 34% less on cyber incident recovery than those who use multiple vendors.
Learn more about building Zero Trust Architecture