 Do You Have The Entire Cloud At Your Grip?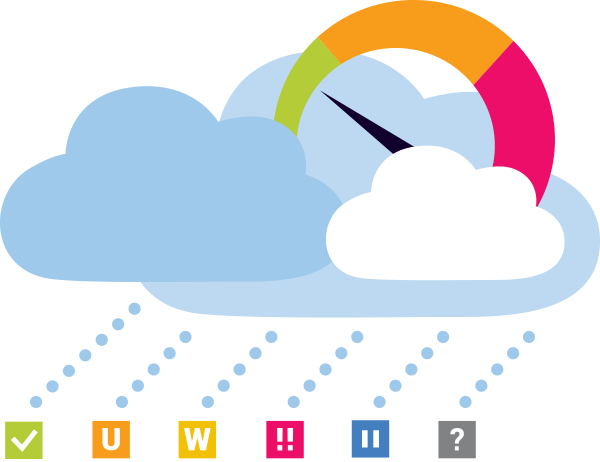 Whether you use the cloud for the benefits of a scalable Infrastructure (IaaS), for running a Software (SaaS), or for the creation of an agile platform (PaaS) for your developers, PRTG gives you the cloud monitoring you need.
The PRTG cloud ping sensor
Any online service you provide to your company, shareholders or employees makes a statement about the capability and professionalism of your organisation. Poor performance, or even worse, downtime can have a lasting negative impact on those users.
The PRTG Cloud Ping Sensor enables you to measure the response times of your internet facing devices and services, from multiple locations around the world. It can also alert you if those response times become unacceptably slow, giving you a chance to take corrective action, before your customers even notice there's a problem.
Ensure public facing services
are available
Check response times
from around the world
Check response times
from around the world
See the global average
response time
Your Cloud Monitoring Can Look like This with PRTG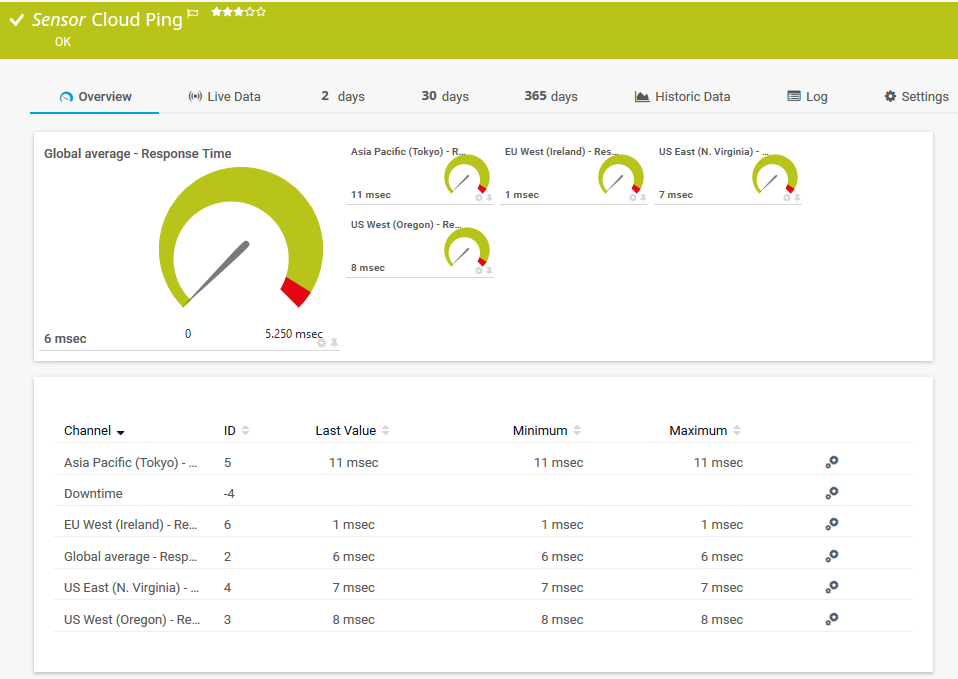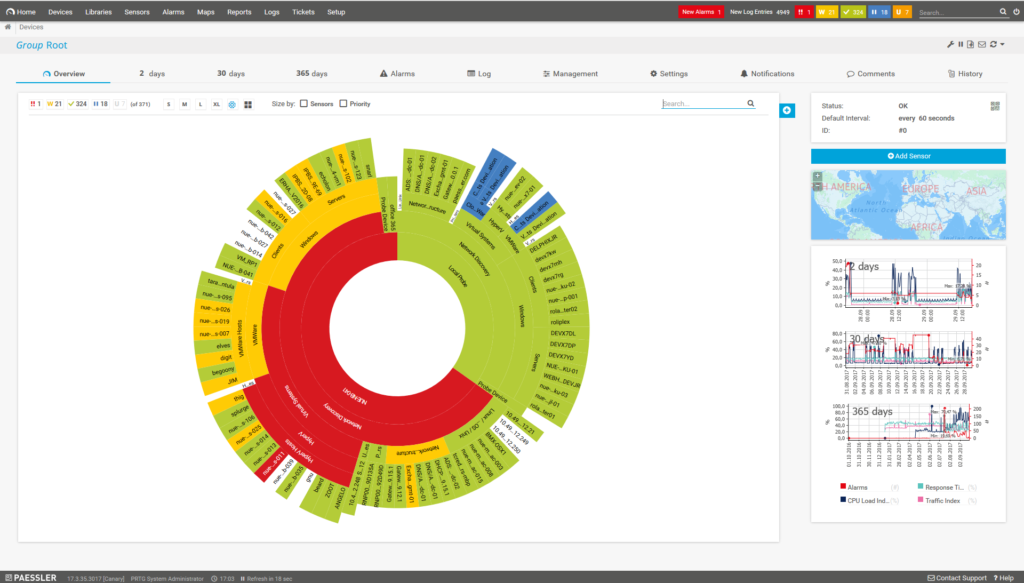 10 PRTG sensors for Cloud Monitoring
PRTG Cloud HTTP Sensor
Check worldwide service accessibility and performance from your own particular location
VMware Monitoring
Series of sensors for VMware, including the VMware Virtual Machine sensor (SOAP) and VMware Host Hardware sensors (WBEM)
Cloud Ping Sensor
With the HTTP sensor's "little brother," you can likewise monitor your services' Ping times from all over the world.
Microsoft OneDrive Monitoring
Our sensor for Microsoft OneDrive displays how much storage space you have available, and punctually alerts you when shortages loom
Amazon CloudWatch Monitoring
PRTG is a good choice for those who have many different accounts with Amazon and who wish to avoid having to constantly jump from one account to another
Google Drive Monitoring
The Google Drive sensor accesses the Google API directly and displays the amount of remaining storage space in bytes and as a percentage.
Mail Server Monitoring
When the system e-mail is down, the IT manager's telephone rings at once. Here it has proven to be useful to apply threshold values so one is warned quickly – before crashes occur.
Dropbox Monitoring
Dropbox Business enables companies to access a great deal of storage space. PRTG uses Dropbox API to conveniently display how much free storage space
Google Analytics Monitoring
The Google Analytics sensor accesses the Google API in order to gather the most important data. Unique user information or views can thus be studied at a glance via the PRTG dashboard.

Contact Us for a Personal Demo


See What Else PRTG Can Monitor